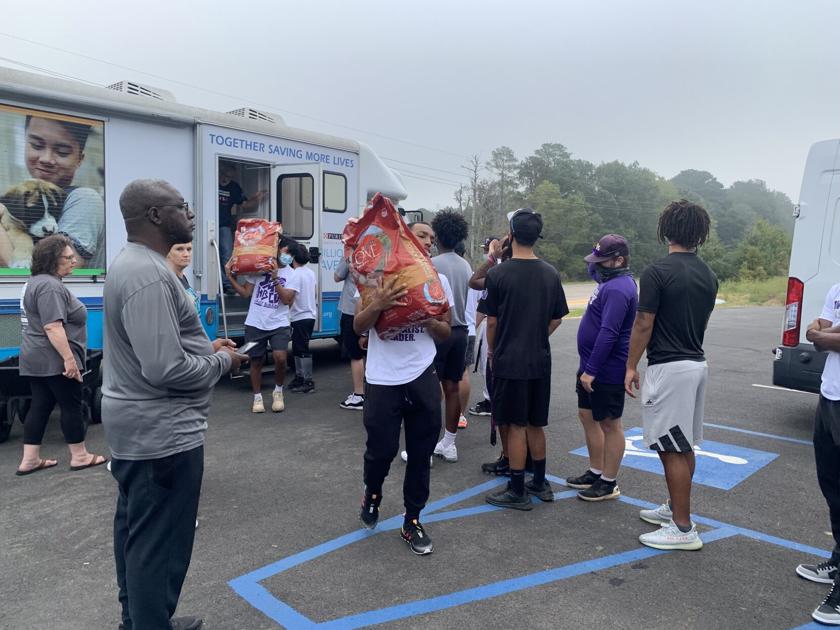 North Shore Animal League Donates Supplies to Support Local Campaign for Louisiana Flood Victims | New
The Marshall Pet Adoption Center was visited by New York-based animal rescue groups on Tuesday, dropping off more than 9,000 pounds of supplies donated by the North Shore Animal League for victims of the recent hurricane in Louisiana.
MPAC collected supplies for hurricane victims throughout the month.
Staff and volunteers from the Animal Friends Marshall were on hand for the donation, receiving help offloading supplies from the Wiley College baseball team and head coach Kendrick Biggs.
Biggs said 59 varsity baseball players made it to the shelter Tuesday morning, helping to unload in 15 minutes what took two days for the North Shore Animal League to fully pull up on the bus.
"It's so great to have them all here," said director Shelly Godwin.
Pet supplies including dog and cat food, cat litter, toys and leashes were all stacked and organized by the player, before they took a quick break to play with them. many adoptable animals currently at the shelter.
"It really helps a lot," said Chief Constable Cliff Carruth. "We are so grateful to our friends up north. "
Baseball volunteers then helped load 36 dogs and four cats that are to be transported north for adoption.
On Tuesday, MPAC staff and volunteers were joined by members of PAWS 4 Life, Nacogdoches Humane Society, Hope for Paws, Hand in Paw Friends, Bossier City Animal Shelter, Friends of Jefferson Animals and Nicholas Pet Haven.
Police Chief Marshall Cliff Carruth, Lt. PIO Len Ames and Mayor Amy Ware were also on hand to greet guests and thank them for their donation.
"It's so wonderful to have all of these students here to help with such a big donation," Ware said.