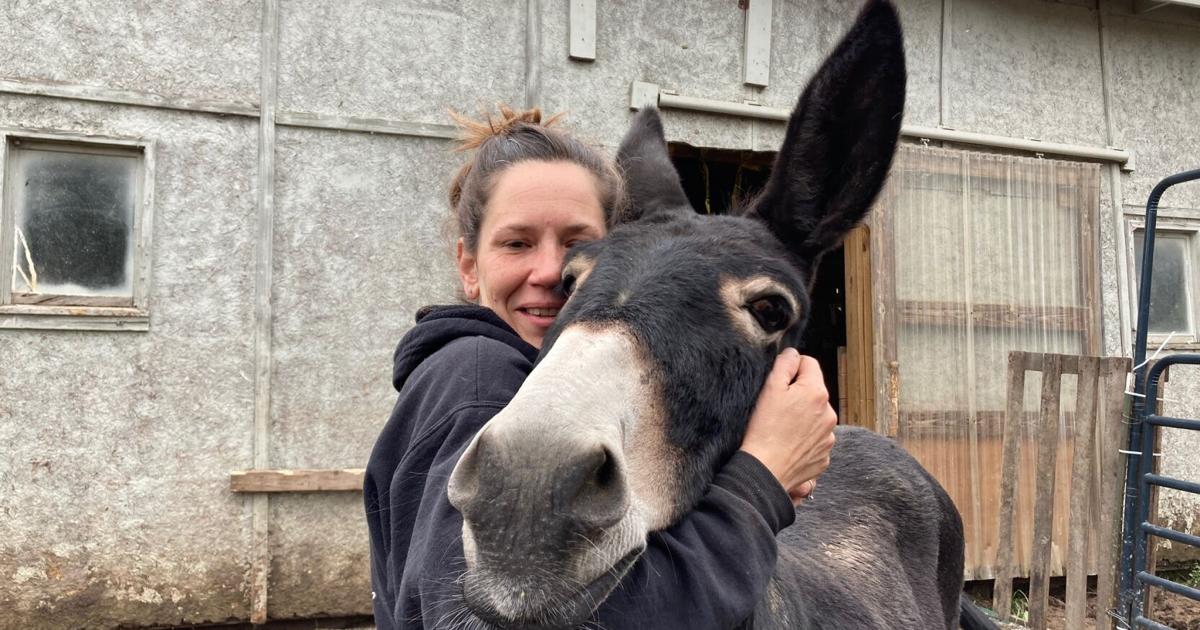 Documentary about Gasport-based animal rescue outfit debuting Thursday | Local News
When it comes to animals that can help put people at ease, donkeys aren't the first that come to mind. A new locally produced documentary aims to change that.
Former Lifestyle/Features Editor Michele DeLuca will debut a documentary film she shot and edited herself about the Whispering River Animal Rescue in Gasport. It's called "Jackass Love".
DeLuca first discovered Whispering River through a story about the farm in August 2021, and she was also looking for a place where her brother, Francis "Jerry" Coffas, could volunteer.
"When I read that they were looking for volunteers with depression, anxiety, and addiction, and just to love animals, I knew my brother could do it," DeLuca said. "We went there last summer and fell in love with the place."
DeLuca was also looking for a documentary subject on and thought this rescue would be perfect. Her previous documentary productions include "World Class," in which she followed a class of Canisius College biology students spending a few weeks on a reservation in Alaska in 2006.
Laura McGill Randolph, the manager of the Whispering River barn, said they were all for the documentary because it helps spread awareness of their mission.
"It shows an average day, some of the most heartbreaking times we've had here and some of the good ones," McGill Randolph said. "She captured a lot of what people don't see."
Whispering River saves donkeys that are destined to kill farms in Mexico, where some donkeys, horses, and mules bought at auction are going to be slaughtered. Their meat is sent to countries that still consume it while donkey skin is sent to China to be used in traditional Chinese medicine. DeLuca said about 60,000 horses, donkeys and mules are sent to these farms each year.
"The treatment the animals receive is horrendous," DeLuca said, adding that they generally don't receive food or water and those who arrive at Whispering River look like Holocaust victims.
Whispering River was started in late 2020 with a small group of volunteers that eventually grew into a corps of 20-30 volunteers per week doing chores around the farm. Besides the donkeys, there are goats, pigs, barn cats and different types of birds on the grounds.
"These donkeys heal," McGill Randolph said. "I've been touched by every donkey here. They are like children. They each have their own personality, temperament and particularities. They're a lot of fun."
Volunteers who come to Whispering River, from all over the region and some as far away as Rochester, try to either find a good home for these donkeys or keep and love them. DeLuca was struck by their kindness and persistence in caring for these broken creatures.
The filming process took over five months and the editing process took another six months. DeLuca finished editing a few weeks ago. She shot all the footage on her iPhone, which is capable of shooting high-resolution 4K video. The final duration is 28 minutes.
"When I shared it with the Whispering River volunteers, they laughed and cried," DeLuca said. "There's no greater tribute to a documentary filmmaker than this kind of response."
McGill Randolph shares that sentiment, saying every volunteer who saw it cried.
"She really encompassed all of us," McGill Randolph said. "I think it's amazing. Everyone here thinks it's amazing.
Coffas ended up volunteering at Whispering River from July to October 2021 before winter hit the area. He died last February. After his first day volunteering there, he told DeLuca it was the best day of his life.
"These gifts from that were twofold," DeLuca said. "I was able to help spread the story of this incredible rescue, and I was able to help my brother find a place where he was accepted and welcomed."
McGill Randolph's hope is that when the documentary comes out, people who feel like they never fit in somewhere will see it and be like, "Wow, that's amazing.
"There is a misfit rescue that will take you and love you regardless," McGill Randolph said.
"Jackass Love" is set to premiere Thursday at the Boulevard Mall Screening Room in Amherst, with screenings at 5 p.m., 6 p.m. and 7 p.m. Free entry. Donations for Whispering River will be accepted and a basket draw will take place.
The film will also screen during the Buffalo Dreams Fantastic Film Festival, scheduled for August 19-25 at the Eastern Hills Mall Dipson Cinema. "Jackass Love" airs at 2:30 p.m. on August 22.
After those screenings, the documentary will be available for viewing online on Whispering River's website, Facebook page, and DeLuca's YouTube channel.